Life! Program
If you're overweight and over 45 you could be at serious risk of diabetes, heart disease and stroke. The good news is, we can help!  Bass Coast Health delivers a FREE Life! program.
The Life! program is a group course where you'll learn how to adopt healthy behaviours and a more active
Image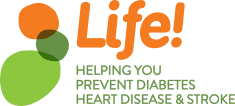 lifestyle to reduce your risk of these three serious conditions. The Life! course is for people over 45 and score 12 or more on the Australian Diabetes Risk Assessment tool.  
Over 20,000 Victorians have done the Life! program and have greatly improved their health, allowing them to live a fuller and more satisfying life.
The course consists of six sessions. Your first session is a one–on–one with Karen Billman our Primary Care Nurse. The session will go for around one hour and Karen will introduce you to the program and work with you to set some personal health goals.
The five group sessions take place at Bass Coast Health, 1 Back Beach Road, San Remo. The first four sessions take place fortnightly and the final session takes place four months later. The lifestyle changes you'll learn with us during the Life! course will not only improve your wellbeing, it will also help you manage and prevent other medical problems like high cholesterol.
We understand that changing your lifestyle isn't easy to do on your own- that's why we're here to help.
Call us today on (03) 5671 9205 to find out about a course starting soon!