Rapid Access Atrial Fibrillation Clinic
Image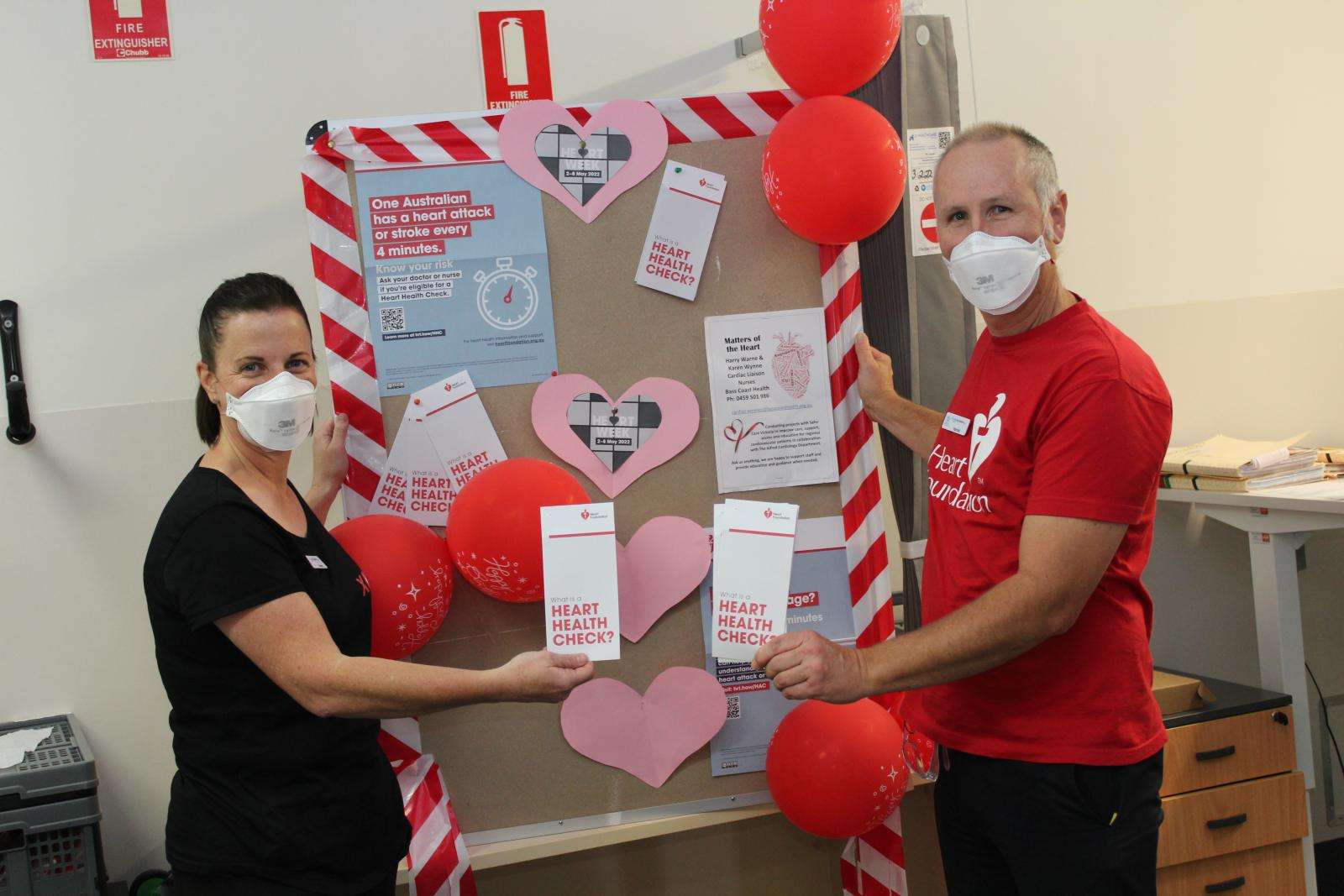 In January, BCH welcomed two new cardiac nurses to the team, Harold Warne and Karen Wynne (pictured above). Both nurses are conducting pilot projects with Safe Care Victoria in collaboration with The Alfred Hospital Cardiologists and aim to improve care, support, access and education for cardiovascular patients and their families within the region. 
Karen has established and commenced a new rapid access Atrial Fibrillation (AF) clinic at the Wonthaggi hospital and was the first in the state to start this year. The clinic aims to provide timely and focused specialist care to patients diagnosed with AF and every patient will receive an AF management care plan and stroke risk assessment including an oral anticoagulant review. Patients that are referred into the clinic are seen within 14 days and followed up closely by Karen in conjunction with the cardiologists from The Alfred Hospital.  
As a Cardiac Liaison Nurse (CLN), Harold has the goal of working to improve the quality of cardiac care delivered and reduce unplanned hospital readmissions. As a CLN Harold will plan, lead, implement and coordinate appropriate multifaceted interventions for BCH's model of care. It is intended to work collaboratively within community and primary health settings to improve coordinated care of patients with atrial fibrillation, heart failure and/or ischaemic heart disease during admission, discharge, and transition to the community. It is predicted that with the early patient centered interventions of education, support and guidance provided by the CLN and an individual management care plan supported by the multidisciplinary team, combined with timely referrals and review at specialist cardiac clinics and specific cardiac rehabilitation programs we will see a reduction in readmission for cardiac conditions and increased patient, family and carer satisfaction. 
Both nurses are available to support staff by providing education and guidance on cardiac conditions
 
When:     
Every Tuesday at Bass Coast Health – Wonthaggi Hospital with Alfred Health Cardiologists and Rapid Access Atrial Fibrillation (AF) Clinical Nurse Consultant
Who:    
Patients who present to ED, primary health services or other health services with AF will be seen withing 14 days of discharge/referral in a weekly rapid access AF clinic. The clinic will be available to patients in the region through referral from their treating physician/GP.       
How:     
Current BCH Rapid Access Cardiology Referral Form MR/310 or standard health service referral letter with: 
•    full medical history
•    Include current ECG/rhythm strip
•    TTE if available or request on same referral
•    Most recent set of pathology or request:
(U&E's, FBE, TFT, Lipids, Ca, Mg, PO4, coag, fasting gluc)
Email referral to: access@basscoasthealth.org.au
Why:    
Atrial Fibrillation is the most common cardiac arrythmia and contributes to significant burden upon Victorians as the leading cause of stroke and a frequent cause of hospital admission.
The Rapid Access AF clinic aims to:
 *Improve access to timely, evidence based, AF care
* Increase appropriate anticoagulants for stroke prevention
*Provide arrythmia management through rate or rhythm control
*Identify management of risk factors and concomitant diseases
Contact:    
BCH Rapid Access AF Clinical Nurse Consultant:
Karen Wynne - Email: Karen.Wynne@basscoasthealth.org.au - Mob: 0459 501 986
& Harold Warne - Email: Harold.Warne@basscoasthealth.org.au
Main Email: cardiology.services@basscoasthealth.org.au
 
In collaboration with Alfred Health Cardiology and Safer Care Victoria Cardiac Clinical Network