Covid Services
Community transmission is here
Let's work together to stop the spread. Bass Coast Health strongly encourages everyone in the community to stop the spread. You can achieve this through getting your third dose of vaccine (booster), hand hygiene, keeping your distance and wearing a mask if you cannot, and staying home if unwell and get tested when you notice symptoms.

​
COVID-19 testing
If you feel unwell with any symptoms of coronavirus (COVID-19), however mild, you should in the first instance have a Rapid Antigen Test (RAT).
PCR Tests and Rapid Antigen Tests are available at the following sites from Monday 16 May 2022:
Phillip Island Health Hub, 50 Church Street, Cowes
PCR tests and Rapid Antigen Tests are available for eligible people, namely people with COVID symptoms and close contacts. Please attend the Hub to be assessed by Monash Pathology staff. PCR and rapid tests are available 12.30pm-3.30pm Monday, Wednesday and Friday.  

For PCR tests and RATs, you must bring photo ID with date of birth and/or a Medicare card. Please pre-register for PCR testing and RAT distribution online here: https://testtracker.covid19.dhhs.vic.gov.au/citizen-prefill

Wonthaggi Hospital, 235 Graham Street, Wonthaggi. 

PCR tests and Rapid Antigen Tests are available for eligible people in two rooms at the hospital, from Monash Pathology. Come to main entrance to be directed. Opening hours: 9am-1pm, Monday to Saturday (closed Sundays). Please note testing will be closed on Friday 10 June and will be in the Pre-Admission Clinic area from 9am-5pm on Saturday 11 June.

For PCR tests and RATs, you must bring photo ID with date of birth and/or a Medicare card. Please pre-register for PCR testing and RAT distribution online here: https://testtracker.covid19.dhhs.vic.gov.au/citizen-prefill
Image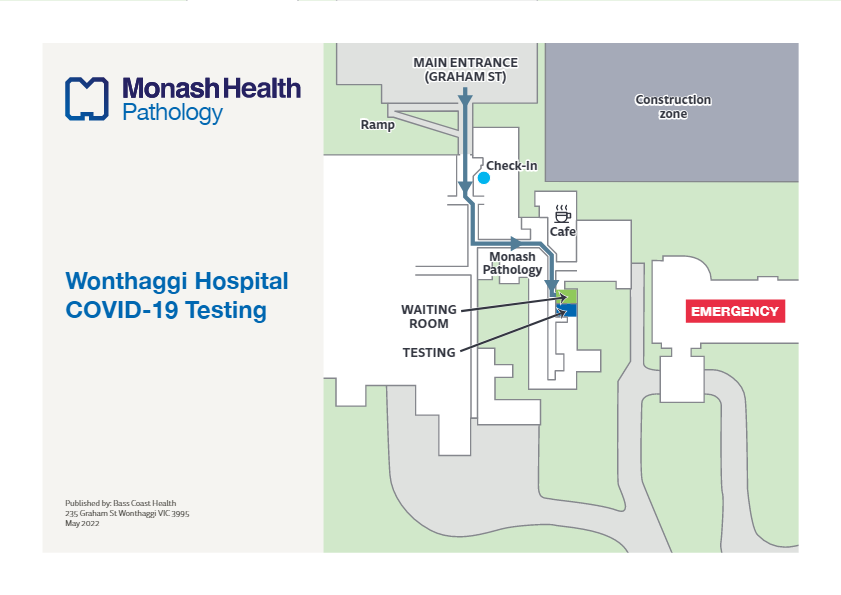 New testing criteria for PCR tests from 1 July 2022
As of 1 July 2022, there are new State Government eligibility criteria for a PCR test. Rapid Antigen Tests will remain the primary way of testing for COVID.
Symptomatic people will only be able to have a PCR if they are:
Aged 65 and over
Have other health conditions, including chronic disease and co-morbidities
Presenting with moderate to severe symptoms
Not yet vaccinated, nor up-to-date with their vaccination
Identifying as Aboriginal and/or Torres Strait Islander
Pregnant, including 2 weeks postpartum
Presenting as determined by clinical and Local Public Health unit, such as for targeted outbreak response in high-risk settings.
People who are asymptomatic will not be eligible for a PCR test unless under special circumstances, which include:
An asymptomatic person in the community who tests positive on a RAT, with no known epidemiological link to a positive case
A person with two consecutive invalid antigen test results
An asymptomatic/symptomatic person where RAT testing is not available at the testing site (this excludes asymptomatic International Travellers, who should undertake a RAT, not a PCR
People directed to have a test by a Local Public Health Unit
Clinically vulnerable people who may require asymptomatic PCR testing as clinically assessed by a medical practitioner.
Other Health Services
42 Murray Street, Wonthaggi. PCR testing is available between 1pm – 3:15pm on week days and booked via Hot Docs on their website (https://www.hotdoc.com.au/medical-centres/wonthaggi-VIC-3995/wonthaggi-medical-group/doctor)
At Bass Coast Health, we will aim to see you as quickly as we can for testing but if you all come at once, please be patient. Bring your Medicare card, snacks and water. Waiting times for test results may take 1-2 days. Some groups (such as healthcare workers and COVID contacts) are prioritised. Everyone who is tested is required to self-isolate until test results are received.
To be eligible for Rapid Antigen Tests, people need to have COVID symptoms; or be a confirmed contact of someone with COVID and require a rapid test on day 1 and day 6; or be another contact such as a work, social or education contact, or a member of a high-risk industry surveillance group.
We can distribute packs of five Rapid Antigen Tests to eligible members of the public. Rapid tests are now considered official results.
Symptoms of COVID include fever, chills, cough, sore throat, shortness of breath, runny nose, and loss of sense of smell or taste. Stay home, don't go in to work; don't go shopping; and don't visit friends and family. Get tested and stay at home until you get the result.
COVID-19 vaccination
The Community Vaccination Clinic at Wonthaggi Town Hall is no longer operating.
Bass Coast Health encourages you to continue to get vaccinated, especially if you have not had a third booster.
The Gippsland Region Public Health Unit will continue to ensure the community has access to COVID vaccinations. It will continue to manage state-run community vaccination hubs with support from health services across the region. Mobile COVID vaccination bus, Chitty Chitty Jab Jab, will also provide outreach vaccination opportunities throughout the Gippsland region. Watch the Facebook pages of Bass Coast Health and the Gippsland Region Public Health Unit for dates, times and locations.
COVID vaccinations are also available at GP clinics, six Gippsland Respiratory Clinics and participating pharmacies.
https://www.health.gov.au/initiatives-and-programs/covid-19-vaccines
Image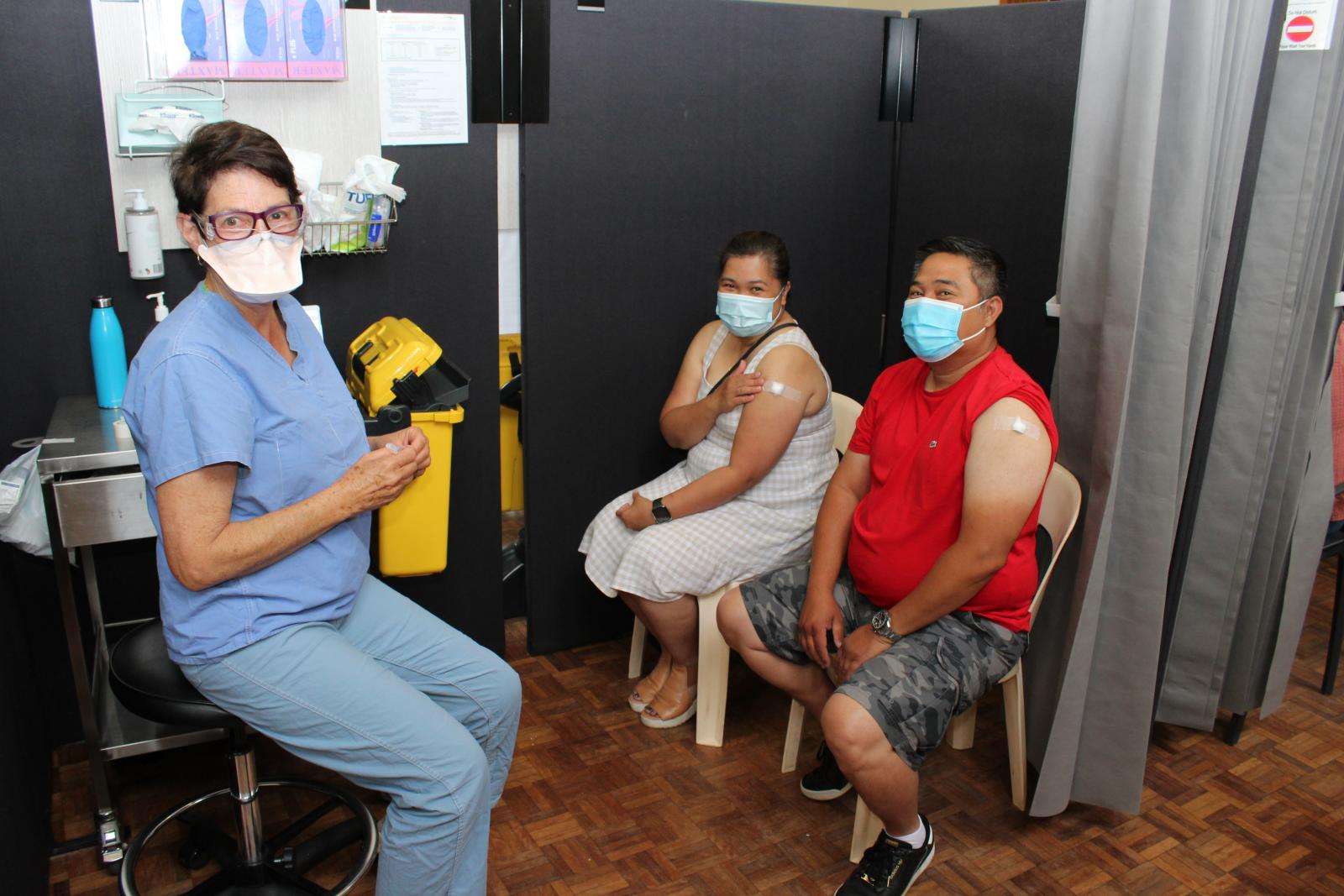 COVID treatment at home
Bass Coast Health are other health services are assisting people with COVID-19 to recover in their homes where possible, via the COVID-19 Positive Pathways South Gippsland Coast Partnership.
Patients receive tailored treatment plans as part of the Hospital In The Home - COVID Home Monitoring Program. The service entails medical, nursing and allied health clinical services - as required - delivered via telehealth using remote monitoring technology. For a small number of patients the clinical staff may need to do a home visit.
This treatment approach ensures patients remain comfortable in their homes if their health allows, while minimising the need to present to hospital. Patients whose health does not allow them to be treated at home will be conveyed by ambulance to a COVID streaming hospital.
Patients that live in the Bass Coast or South Gippsland Local Government Areas can be referred to the COVID Home Monitoring Program by the Gippsland Region Public Health Unit, by a GP or by another hospital.
Bass Coast Health is part of the South Gippsland Coast Partnership which also includes Gippsland Southern Health Service, South Gippsland Hospital and Kooweerup Regional Health Service.
Thank you from Bass Coast Health
In 2020 we asked you to stay at home and follow the COVID policies (see the video below). Our community response to COVID made a difference and protected our community.