Maternity Services
Bass Coast Health's Maternity Service offers continuity of care during the ante-natal, birth and post-natal period. The midwives provide quality care for women who have a low risk pregnancy and work in collaboration with Bass Coast Health's Obstetricians.
BCH offers three modern birthing suites and four ward beds.
During your stay, the midwives will provide information and support on how to look after yourself and your baby. The midwives provide domiciliary care (home visits) following your discharge from hospital.
Your doctor or midwife can arrange a referral if you wish.
Your length of stay is dependent on the type of birth you have, whether you have had a baby before and any complications that may arise.  
As a general rule, the expected stay for a vaginal birth is 24-48 hours and for a caesarean section the stay is 48-72 hours.
Earlier discharge is available.
Bass Coast Health is able to offer a wide range of birth support during your birth. Epidurals and the capability to perform caesarean section births is available. Women who require urgent referral to tertiary centre for specialised or ongoing care are transferred through liaison with the Paediatric Infant Perinatal Emergency Retrieval (PIPER) service.
Pregnancy care
Bass Coast Health can provide holistic care during your pregnancy with support from our midwives and doctors.
Support of labour
You may like to choose support people to stay with you during labour and birth. We suggest you plan to have no more than three people present. Children are welcome, but an adult is required to accompany them.
Visiting
Partners or a support person and other children are welcome and will be screened upon entry at Wonthaggi Hospital. Further visitation is currently restricted due to COVID risk in our community. 
To book
To book to have your baby at Wonthaggi Hospital, please visit your GP who will arrange your tests and send a referral directly to the hospital.
Contact details
Phone: (03) 5671 3201
Image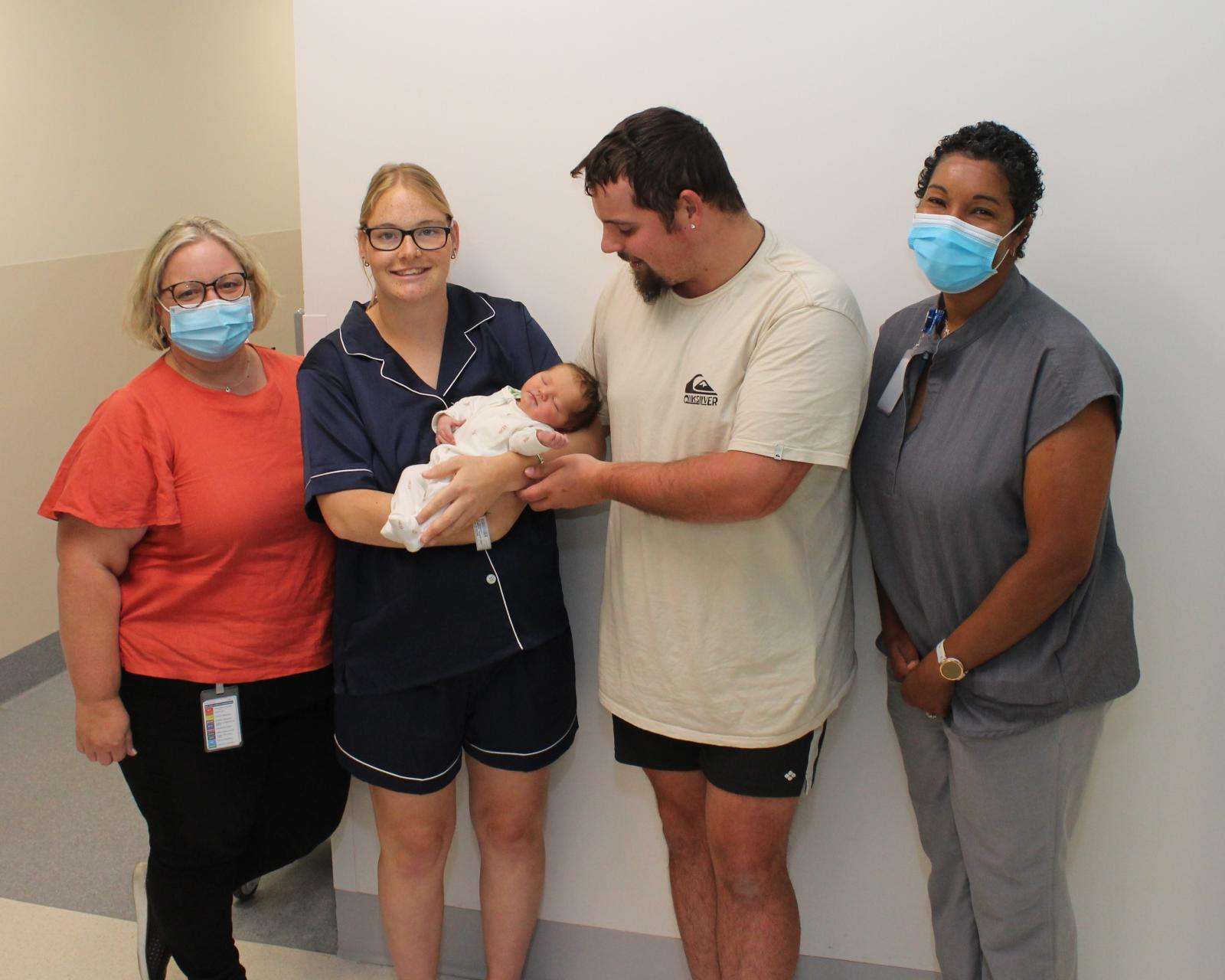 Our Midwifery Unit Manager Relle McMillin with new mum Savanah Marmion, baby Leia Raynes, new father Liam Raynes and our Clinical Director of Women's Services, Carmen Brown.
Our Midwives
Midwifery is a special job because having a baby is of the most important moments in people's lives.
"It's something that people always remember so if you can make the experience personalised, they will be forever grateful. Our jobs are a real privilege," one of our Midwives said.
Our Midwifery Team strives to provide the ultimate in care for mothers from across Bass Coast and South Gippsland.
That care goes beyond the hospital to include extensive post labour care, including home visits to new mums – whether they gave birth at Wonthaggi Hospital or another hospital.
"In emergency cases, we work really well as a team. We are nice and calm, and have a great team of doctors and theatre staff," one of our Midwives said.
The midwives help to prepare families for a joyous moment in their lives by offering ante-natal clinics and classes, and support mums and their partners with labour support and care.