Meals on Wheels
Meals on Wheels is operated by Bass Coast Health from Wonthaggi Hospital. The meals are prepared in the Wonthaggi Hospital Kitchen, chilled down and frozen.
They are delivered once a week to:
Phillip Island and surrounding areas and Inverloch – Tuesday
Wonthaggi South – Wednesday
Wonthaggi North, Cape Paterson and the Bass Area - Thursday
Delivered meals are an option for people who are assessed as nutritionally at risk or have decreased capacity to prepare their own meals.
Meals on Wheels will enable the person to maintain or progressively improve their capacity for good nutrition. The menu is planned by the Food Services Manager with the ongoing input of the hospital's Dietitian to make sure all food standards and nutrimental values are met.
Food Preparation
All of the food is stored, processed, packaged, and maintained on sanitised equipment, by fully qualified chefs.  The meals are frozen the day they are cooked and all preparation of food is followed by strict regulations. All staff involved in the food preparation for Meals on Wheels hold Food Handling Certificates. 
Clients
Meals on Wheels is a service to the community to help the clients prolong their time in their own homes.  Anyone within the Bass Coast Shire is eligible and can use the Meals on Wheels service.  The service can accommodate for allergies, intolerances, dislikes and different textures (example minced and vitamised).
Packaging
Containers of the meals are made from a 100% recyclable material. They come with a tamper free clear plastic seal.  This stops any contamination with the food and meets all Food Safety standards. This is for the client's own safety and hygiene standards.
The soups and sweets come in a square container, while the main meals come in a rectangle container.
The heating instructions are given out with each new client, please make sure that you keep your copy as they will no longer be presented on the seal (as they have been to date).
Prices and Payment
Clients are able to select a range from our meal menu, which consists of soups, mains and desserts.
There are two options that you can choose from:
Option 1: A two course meal (Main meal and sweet or Main meal and soup) for $10.00
Option 2: A three course meal (Main meal, Soup and sweet) is $11.50 per meal, which is billed to the client at the end of each month.
A client who receives meals five days a week would pay:
Option 1: $10.00 x 5 = $50.00
Option 2: $11.50 x 5 = $57.50
The client also has the choice of having the bill deducted from their bank account or from Centrepay (from any Centrelink payments).
Admission Criteria
No referral is needed to start Meals on Wheels. All the client needs to do is call the Meals on Wheels office on 03 5671 3247 to get started.
Image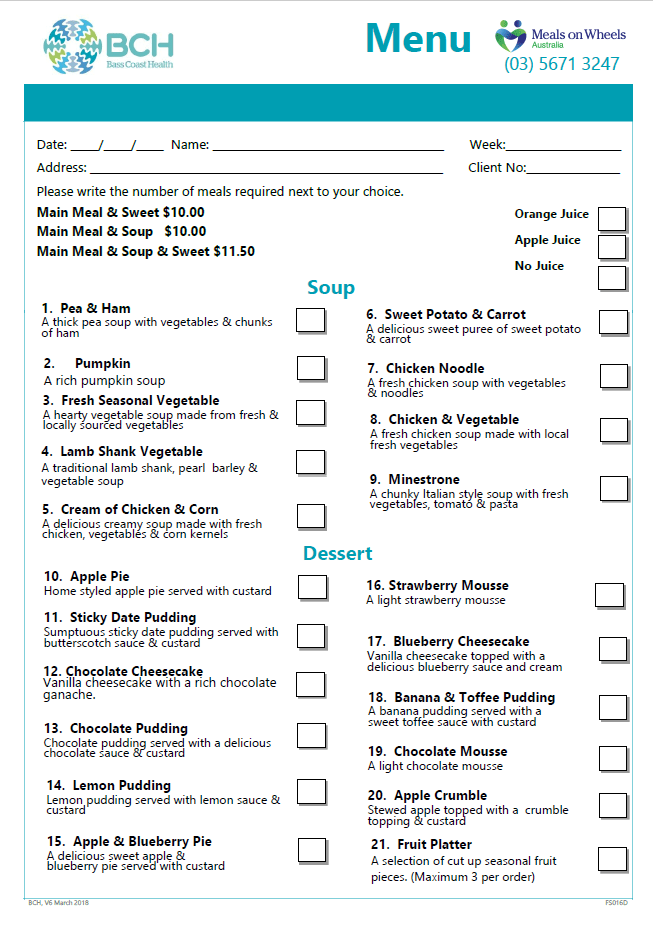 Image